,
Changan UNI-V: a new benchmark of comfort and safety on the road
Chinese automaker Changan presents its new crossover UNI-V, equipped with the latest safety and comfort technologies.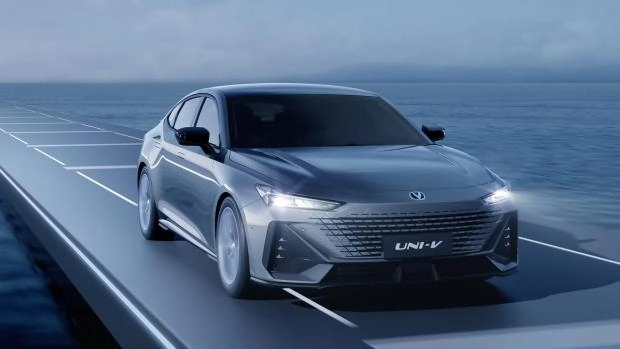 Changan is a Chinese automaker that has been producing high quality cars for over 35 years. This year, the company introduced its new car, called Changan UNI-V. This is a completely revamped versatile car, which has a number of advantages over its competitors.
Design and exterior
Changan UNI-V has a modern and elegant design. The exterior of the car looks in the spirit of the times thanks to its bold lines and elegant styling. With pronounced fenders, a wide frameless decorative grille and innovative headlights, the UNI-V challenges any competitor. In addition, it is available in several colors, allowing every customer to choose his or her ideal option.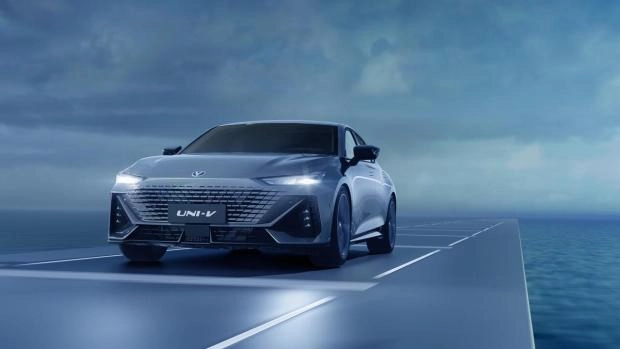 Dimensions:
Length - 4,680 mm;
Width - 1838 mm;
Height - 1430 mm;
Wheelbase - 2750 mm.
The body is made in the "coupe SUV" style, which makes it very attractive to young buyers. The car has large LED headlights and chrome elements on the body. There are several wheel rims to choose from, ranging from 16 to 19 inches.
To provide more aerodynamics and emphasize style, the door handles are hidden in the body. They come out automatically as soon as you approach the car. An active rear spoiler and dual exhaust system complete the dynamic look.
Interior and comfort
Changan UNI-V is equipped with a modern and functional instrument panel with a digital display. The interior is made in black with contrasting metallic inserts. Driver and passenger seats are covered with leather and have electrical adjustment. For the driver's convenience, the steering wheel has buttons to control the multimedia system
.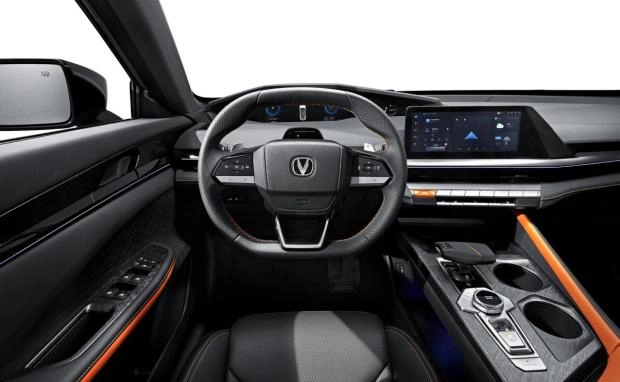 Technical Specifications
The new car has surpassed expectations in its "stuffing" and may well compete with the flagships in this class. The latest generation of BlueCore 1.5T engine and 3 modes of transmission (Eco/Norm/Sport), synchronized with power steering, will not leave indifferent the drivers, regardless of driving style, whether it is city voyage or high-speed driving.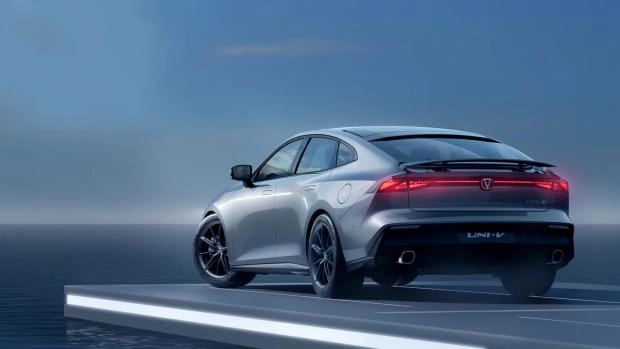 Main technical characteristics:

Engine: Inline 4-cylinder turbocharged
Working volume: 1,5 liters
Power: 181 hp
Top speed: 205 km/h
Torque: 300 N/m
Acceleration to 100 km/h: 7,9 seconds
Fuel consumption: 6.3 liters per 100 km
Transmission: 7-speed automatic with a double wet clutch
Drive: all-wheel drive or front-wheel drive.
In addition, the car is available in a hybrid version, which was named UNI-V Eco. The hybrid model uses the same gasoline engine, but is also equipped with an electric motor, which allows it to save fuel. The UNI-V is also equipped with front- or all-wheel drive, as well as a seven-speed automatic transmission.
Controls and intelligent assistants
The car has all modern systems, which help the driver in driving, making this process as much as possible comfortable and safe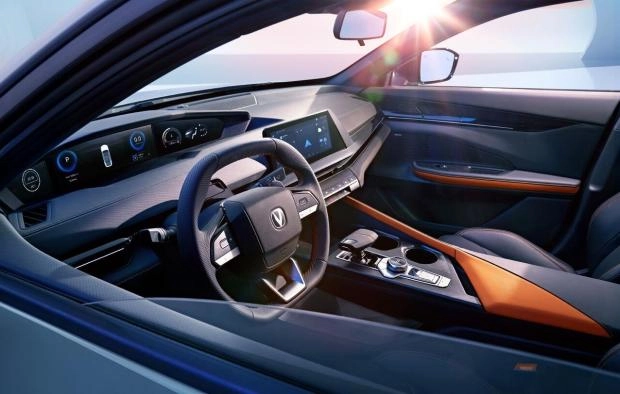 Built-in systems:
Intelligent cruise control;
front collision warning and avoidance system (FCW/FCI);
the all-around camera system for the most demanding maneuvers;
Lane Departure Warning System (LDW), etc.
Comfort and safety
Changan UNI-V has all the necessary features for maximum passenger comfort and safety. Of the many features we will mention the most popular and sought-after among drivers:
Heated and ventilated seats;
multizone automatic climate control;
powerful audio system provide maximum comfort;
remote engine start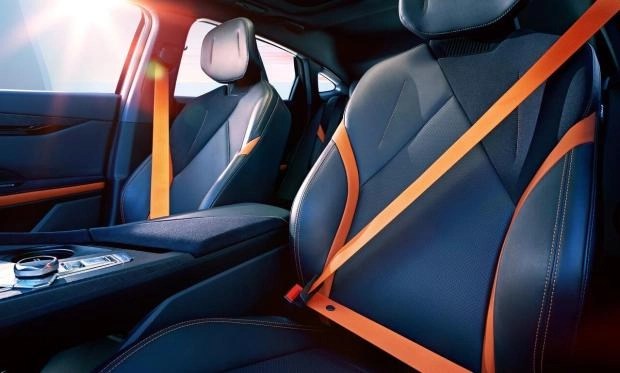 In addition, Changan UNI-V is equipped with the latest safety technologies that protect passengers on the road. The car is equipped with an uphill assist system, a tire pressure monitoring system, environmental cameras and a collision prevention system.
Price and competitiveness
Changan UNI-V price starts from 2,699,900 rubles for the basic configuration, which makes it one of the most affordable cars in its class. One of the main competitors of this model is the Volkswagen Tiguan and Ford Escape, which have a higher price. Thus, Changan UNI-V can be an attractive choice for those who want to buy a quality car at a reasonable price.
Summary
The Changan UNI-V is a versatile car that combines comfort and functionality with modern design. Its specifications make it competitive in its class, and its affordable price allows many buyers to consider it as one of the top choices when choosing a new car.