,
New 2024 Volkswagen Touareg unveiled
Improved design, more power and smart technology: what to expect from the updated Volkswagen Touareg.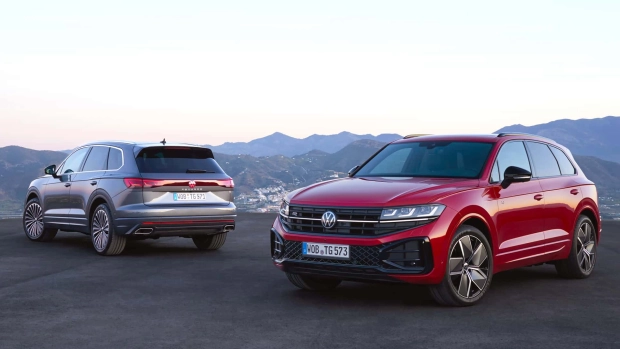 The premium SUV Volkswagen Touareg received more advanced matrix LED headlights and an illuminated rear logo.
The third-generation Touareg debuted back in 2018 as a forbidden fruit in the United States, as Volkswagen of America said early on that it would not focus on the American direction. After five years of more than 200,000 units sold, VW's flagship SUV is getting the chance to remain competitive in a highly lucrative segment. It is already available for order in Europe, and the flagship R will appear on June 22.
Appearance
The Touareg received updated light bars front and rear. Wheel options vary in size from 19 to 21 inches, but the R-Line and R get a larger 22-inch set with a Silicon Gray matte finish. For the first time on VW vehicles made in Europe, more specifically in Bratislava in Slovakia, an illuminated badge appeared on the tailgate.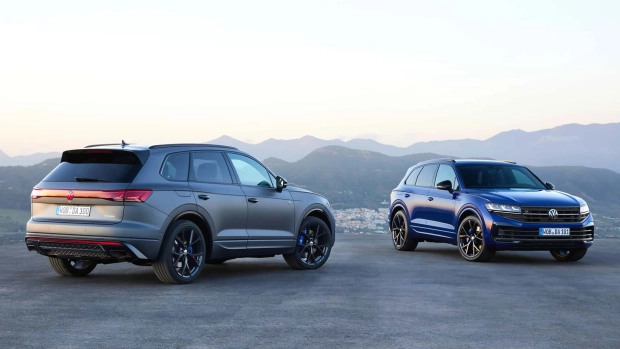 The redesigned triple-L headlights are all-new and use the more advanced micro-LED matrix technology found on the 2024 Porsche Cayenne. Known as I.Q. Lightweight HD LED matrix, each headlight boasts no less than 19,216 individually controllable micro-LEDs to provide superior illumination on the darkest nights without dazzling oncoming drivers. The taillights have also been modified to include the same trio of L-shaped elements.
Salon
Stepping inside, the 2024 Touareg seems out of the ordinary for its traditional trim and now comes with an Innovision cab. It's marketing jargon for pairing a fully digital 12" instrument cluster with a 15" touchscreen. The infotainment system has been tuned to support high-resolution map data with lane-level navigation, as well as enhanced voice control and wireless Android Auto and Apple CarPlay.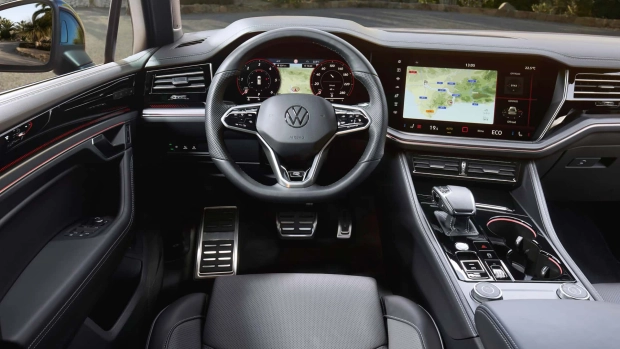 In addition, some switch gears are now glossy black, and the passenger-side dash has updated ambient lighting with "Touareg" lettering. VW is now installing more powerful USB-C ports and offering a head-up display as well as a 730W Dynaudio sound system at an additional cost.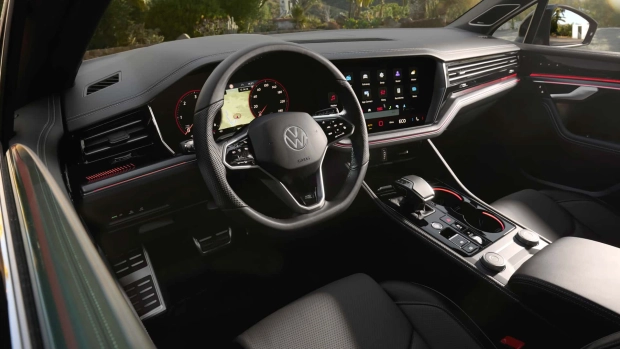 Power point
You'll only find V6 engines under the hood of the new Volkswagen Touareg, as the V8 diesel also used by the Bentley Bentayga and Audi SQ7 died with the Last Edition back in 2020. There are five different versions to choose from, starting with the 3.0-litre turbocharged engine.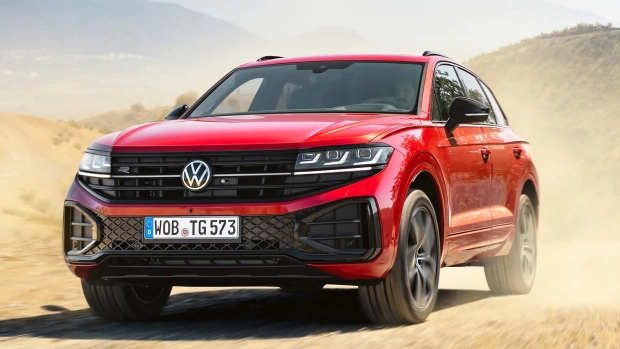 A V6 petrol engine with 335 hp is offered. (250 kW). As for the diesel engine, the 3.0-litre V6 TDI can produce 228 hp. (170 kW) or 282 hp (210 kW). If you want an electrified powertrain, the eHybrid combines a 3.0-liter V6 petrol engine with an electric motor for a total output of 375 hp. (280 kW), which is increased to 456 hp.
Transmission and suspension
Regardless of engine, all versions come standard with 4Motion all-wheel drive and an eight-speed automatic transmission. Engineers overhauled both the standard steel and optional air suspension for greater comfort, and added a roof load sensor. According to experts from Wolfsburg, depending on what the sensors read, on-board computers adjust the lateral forces of the suspension to improve maneuverability. Additional high-performance tires represent another novelty.
Price
VW will sell its facelifted flagship SUV in Basic, Elegance, R-Line and R versions, with prices in Germany starting at €69,200 and rising to €93,870. Since its introduction in 2002, over 1.13 million units have been delivered.