,
BYD's YangWang U8 is the most expensive premium SUV in the brand's history
BYD YangWang U8 exceeded expectations: 1197 hp, 1000 km of travel, and it can also swim!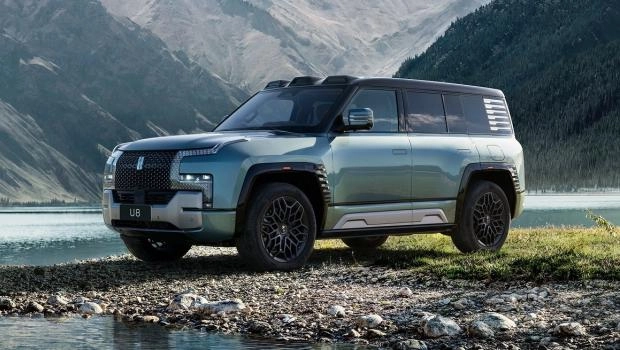 On September 20, the YangWang U8 EREV SUV was introduced in China. It is an all-wheel drive vehicle with four electric motors and a total output of 880 kW (1,197 horsepower). The U8 can turn 360°, wade and swim through water in emergency situations.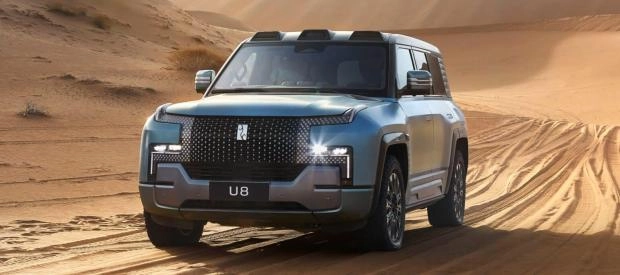 BYD YangWang U8 configurations
YangWang is a premium brand of BYD. U8 is released in two versions - Premium Edition and Off-road Master Edition. The version, which began pre-sales the other day, was called the Premium Edition, and deliveries will begin in October.
The Off-road Master will hit the market later and will have some additional off-road additions, such as a tougher-looking front bumper that extends to the bottom of the car to protect against mechanical damage when driving off-road. It also features a snorkel and a removable roof rack with a small ladder on the side.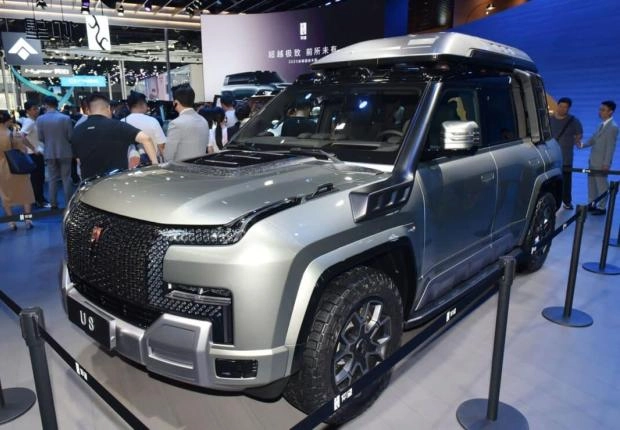 Both versions cost the same - 1,089,000 yuan (150 thousand US dollars), making the U8 the most expensive mass-produced electric car in China.
According to insider information, BYD is also considering creating an all-electric version next year. It could compete with the all-electric off-road beast Dongfeng M-Hero 917.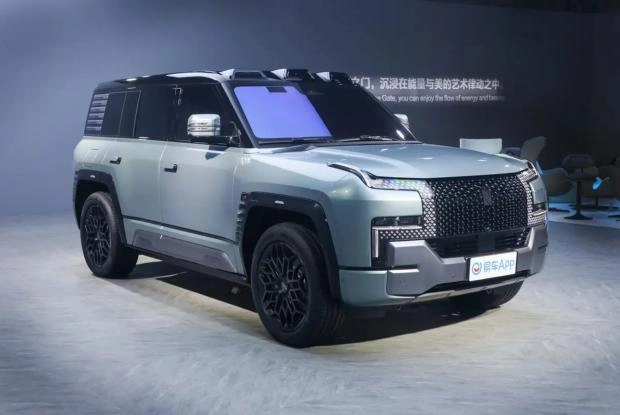 Characteristics
YangWang U8 is a giant SUV with dimensions (L/W/H) of 5319/2050/1930 mm and a wheelbase of 3050 mm. It is 502 mm longer, 137 mm narrower and 39 mm lower than the Mercedes-Benz G-Class. As for the wheelbase, it is 160 mm longer.
The car is located on the e4 platform and is equipped with the Disus-P hydraulic body control system, which allows the car to rise and fall to a height of up to 150 mm.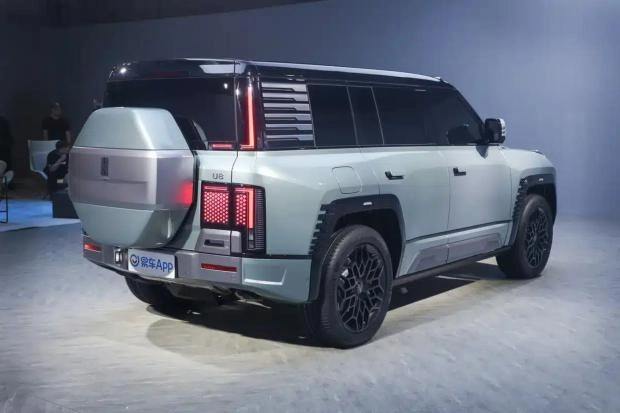 Despite such huge dimensions, it is only a 5-seater, without the option of a third row. Gross weight is 3,985 kg, curb weight is 3,460 kg, according to MIIT.
The U8 is an extended range electric vehicle (EREV), which means it has an internal combustion engine that acts as a power generator for the battery. In this case, the 2.0-liter turbo engine powers the Blade's 49.05 kWh battery with LFP chemistry inside. It comes with Cell-to-Chassis (CTC) technology, which means the battery is integrated into the chassis. The range is 180 km under CLTC conditions, and the total range with a full battery and 75-liter fuel tank is 1000 km.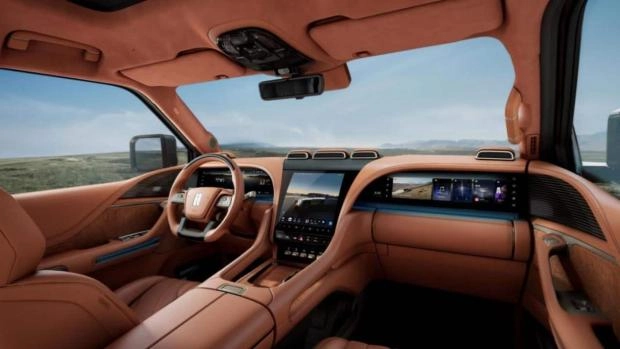 The internal combustion engine is combined with four electric motors, each with a power of 220 kW. Total power is 880 kW with peak torque of 1280 Nm. Top speed is limited to 200 km/h, and acceleration to 100 is 3.6 seconds.
The U8 supports DC fast charging up to 110 kW, which can charge the battery from 30 to 80% in 18 minutes. Its 6kW vehicle-to-load (VTL) discharge capacity can power electronic devices for up to 25 hours.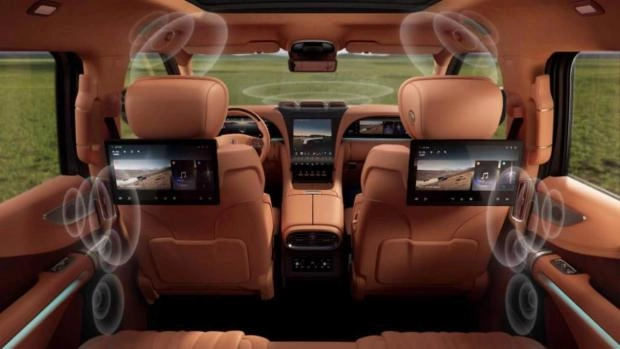 The silicon heart of Yangwang's SUV is the Nvidia Drive Orin SoC with 508 TOPS processing power. It receives input from 38 sensors, including 3 lidars, 13 cameras, 12 ultrasonic radars and 5mm wave radars. It supports L2 ADAS.
Inside the car, you'll find plenty of Nappa leather and 6 massive screens: a 23.6-inch instrument panel for the driver, a 12.8-inch central control screen, and another 23.6-inch infotainment screen for the co-pilot. Two more screens for rear passengers are installed on the backs of the front seats, and the last LCD is located on the console between the rear seats. There is also a 50-inch HUD and 22 Dynaudio speakers.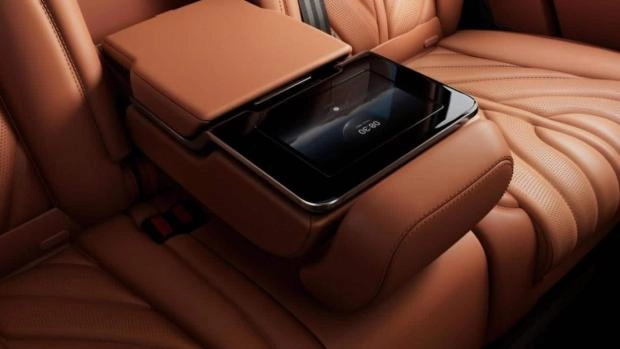 The U8 also comes with some not-so-common in-car technology, such as a thermographic camera and a built-in satellite phone. Both versions of the U8 have spare wheels.
Ride and swim mode
Like any good SUV, the U8 can ford. The Premium Edition can ford at a maximum depth of 1000 mm, and the Off-road Master Edition can ford up to 1400 mm thanks to the snorkel
.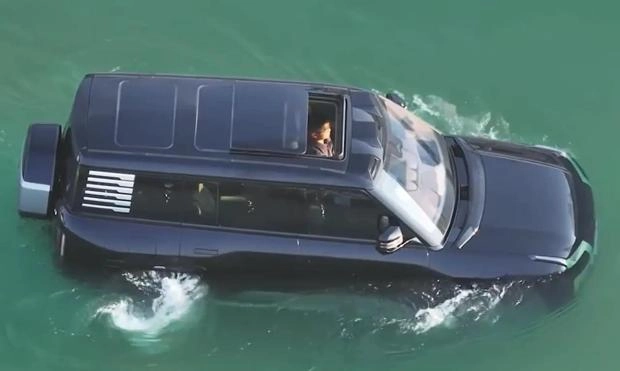 When wading mode is activated, the vehicle will use its sensors to monitor the environment, water depth, wheel slip status, etc. Emergency wading mode is activated automatically when the vehicle dives to a depth exceeding the limit.
When activated, the combustion engine will immediately shut down, the Disus-P will raise the suspension to its maximum level, the windows will automatically close, the air conditioning will switch to internal circulation, and the hatch will open to provide an emergency exit. Additionally, the vehicle will display water depth and position on the central control screen.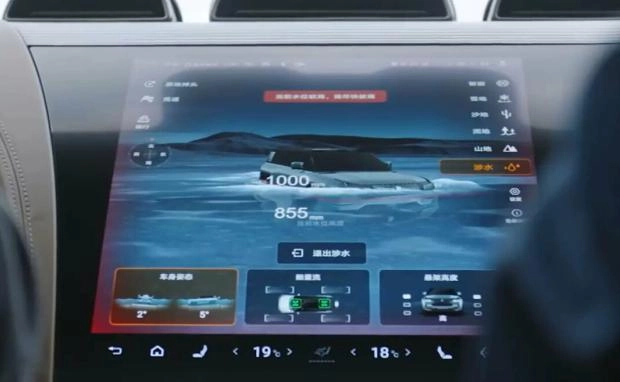 The U8 can stay afloat for 30 minutes and move forward at 3 km/h while accelerating and turning its wheels. It can even perform turns while swimming. BYD stresses that this is only intended for emergency situations such as floods, and not for recreational use when crossing lakes and rivers. Interestingly, their marketing materials show the U8 floating on water in exactly these situations. After activating the emergency float mode, the vehicle must be taken to a service center for inspection. BYD claims the U8 is IP68 waterproof.
Direct sales model
During the presentation, Yangwang announced that it will focus on the direct sales model. They have 60 stores under construction in 40 cities and plan to open 90 stores by the end of the year. BYD is using a similar strategy with its second brand, Fang Cheng Bao, which has recently begun taking over stores and showrooms of premium brands such as Mercedes-Benz, Aston Martin or Maserati. Unlike Yanwang and Fang Cheng Bao, BYD uses a standard dealer model for its BYD-branded vehicles.
BYD has never produced a premium electric car, and the YangWang U8 is their most expensive car ever and one of the most expensive cars in China. The goal is clear: BYD needs to increase its profits, and budget electric cars like the best-selling Seagull and Dolphin can't help. Thus, new sub-brands come to the rescue: YangWang, Fang Cheng Bao and Denza. Judging by the buzz the U8 has generated in Chinese media and the technology that looks great on paper, BYD's starting position is more than favorable.