,
Poco X5 and X5 Pro are two strong contenders for best mid-range 2023
Xiaomi continues to dominate the mid-range segment. Its novelties boast display, camera and power.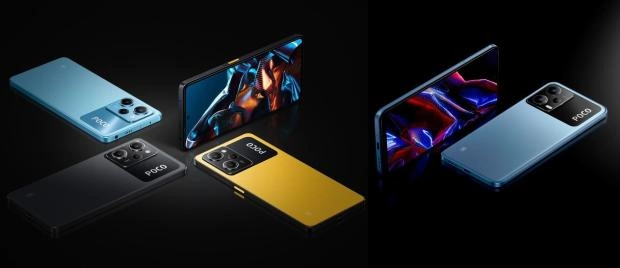 2023 doesn't seem to be the year Xiaomi slows down its launches, and Poco X5 and Poco X5 Pro are proof of that, two smartphones that just hit the market to try to continue dominating the mid-range segment. New items boast a better camera, a more powerful processor, improved performance and a more modern design.
Before diving into each area, we need to be clear about the similarities and differences between the two models and what characteristics they have in common.
Let's start with the general similarities: the Poco X5 and Poco X5 Pro have the same screen, the same battery, and the same two secondary cameras (i.e. the same ultra wide-angle sensor and the same macro sensor).
Well, now to the differences.
• Poco X5 is equipped with a Snapdragon 695 processor, and Poco X5 Pro is equipped with a Snapdragon 778G processor.
• Same battery but not fast charging as the Pro model: 67W compared to 33W for the Poco X5.
• Does the Poco X5's main camera have a resolution of 48 megapixels? Poco X5 Pro has 108 megapixels. The front is also different, with 13 megapixels on the base model and 16 megapixels on the Pro version.
• The design of both models: the Poco X5 is more curved, while its older brother has a flatter and more rectangular body. The cheaper model is also heavier at 189 grams versus the Pro's 181 grams.
Screen
The Poco X5 and Poco X5 Pro share the same screen: a 6.67-inch AMOLED panel, both with Full HD+ resolution, 2400 x 1080 pixels, and a 120Hz refresh rate. This configuration does not disappoint and results in a display with excellent clarity and more than correct color interpretation; with those slightly saturated tones that many people like on this type of screen, but with very well calibrated whites.
Of course, there are small differences here, and they are worth paying attention to, if only because they can affect both the quality of the display and autonomy. Specifically, the Poco X5 has a maximum brightness of 1200 nits, while the panel of the Pro model reaches a maximum brightness of 900 nits. This more powerful version is also protected by Gorilla Glass 5, while the other model is protected by Gorilla Glass 3.
Good autonomy and power
The 5000mAh Poco X5 and Poco X5 Pro do pretty much the same job, allowing them to last all day even with heavy use. In addition, to this good autonomy should be added the excellent load that both models provide.
Again, while the Poco X5 Pro's charging is significantly more powerful, both phones do a good job. The base model can hit 100% in just over 60 minutes, which isn't bad. Its older brother, according to Xiaomi, can fully charge 30% of its battery in about 7 minutes.
Performance
Both models have smooth navigation, open applications of any type without problems, and games can be played without excessive heat and without jerking. It is worth noting that the Snapdragon 778G X5 Pro runs games with more powerful graphics more smoothly.
cameras
The photographic section of the Poco X5 and X5 Pro is very similar to their predecessors. In fact, both the configuration and the sensor models are almost the same.
The Poco X5 is equipped with a 48MP main camera, 8MP ultra-wide and 2MP macro. The Pitco X5 Pro is betting on a 108-megapixel primary sensor. It supports its little brother's 8-megapixel ultra wide-angle camera as well as a 2-megapixel macro sensor.
The ultra-wide and macro sensors on both models do a very good job of capturing fairly sharp images with just the right amount of detail in good light conditions. There is a little more noise in the room, although this is not a concern considering the price of both models.
New smartphones are entering the market at a very attractive price. The base version of the Poco X5 with 6 GB of RAM and 128 GB of internal memory is available for 299.99 euros. Its more powerful version with 8 GB and 256 GB of memory can be purchased for 349.99 euros instead. The Poco X5 Pro is also available at the same price in a 6GB RAM and 128GB storage version, while the 8GB and 256GB variant costs €399.99.
At this price, and considering the features and how well both terminals perform in each of their respective segments, there is no doubt that they are the ideal option if you are looking for a budget smartphone that stands out above all for its multimedia section. In fact, the great display, the great battery life and the very good performance they offer are the three highlights of Xiaomi's latest Poco X5 and X5 Pro.
See also: Is virtual reality dangerous for vision?