,
Apple launches Pay Later, a service for financing purchases
A new feature that allows interest-free payments for purchases made with an iPhone or iPad is one of its top bets in the world of personal finance.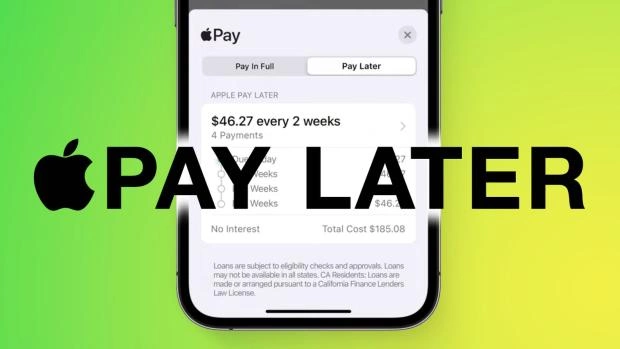 At WWDC 2022, Apple announced Pay Later, its service for financing any purchase without interest and commissions and directly from the iPhone. Since then, we have been waiting for news of this new feature, which is finally available to select users as of today.
It was known from the beginning that Apple Pay Later would only be available in the US. However, the launch is much more limited than we could imagine in principle. It is reported that some random users will be invited to join to test the feature, with the goal of offering it to other eligible individuals in the coming months.
The good thing is that, in addition to its limited availability, we can learn a few details about how Apple Pay Later will work. Although the general scheme of work was explained last June, the finer details of its launch and launch were not known.
The Apple Pay Later service will be offered through Apple Financing LLC, a subsidiary of the California-based firm. The feature will be built into iOS or iPadOS Wallet and will allow users to borrow money to fund their purchases, whether they're made through a website or an app. This means that any iPhone or iPad transaction can be paid using this method, as long as the store accepts Apple Pay.
Apple launches highly anticipated Pay Later feature in the US
When Apple introduced Pay Later at WWDC 2022, it explained that users will be able to pay for their purchases in up to four spread payments within six weeks with no interest or fees. One of the new things we learned about today is that in order to use this feature, interested parties will need to take out a loan of between $50 and $1,000, which they will use to pay for their purchases.
The first thing to do for those who want to take advantage of Apple Pay Later is to access their iPhone or iPad wallet. From there, they will be able to apply for a loan by choosing an amount from the limits already mentioned, which the firm says "will not affect their credit." It is logical that Apple will conduct a credit history check of individuals before approving the procedure.
Once the process is complete, the Pay Later option will appear when placing a purchase order from an Apple device and will allow you to finance it with borrowed funds. It is worth clarifying that when Apple Pay Later is already set up, it will be possible to take a loan directly at checkout, both online and in the application.
What is still unclear is how many credits each user will be able to take. Though it's logical to assume that this will depend on your credit history and whether Apple thinks you'll be able to make the appropriate payments on time before making them available.
How loans are paid
To pay for Apple Pay Later credits, users will need to link a debit card to their wallet. From there, the corresponding money will be deducted, although the repayment dates will be notified in advance via the application and by email. Users will also be able to view and manage their payment dates from the calendar included with iOS or iPadOS Wallet.
Another important point is that Apple Pay Later does not allow you to use credit cards to pay back borrowed amounts. Thus, Apple aims to prevent buyers from taking on new debt in order to fulfill their previous obligations.
As we said at the beginning, this new feature is only available in the US. It is unknown if there are plans to expand this service to other parts of the world at some point. If the experience of using the Apple Card can be cited as an example, then this is at least unlikely. Apple Pay Later requires devices to be updated to iOS 16.4 or iPadOS 16.4.