,
The new Sony ZV-E1 is the camera every content creator will want
Sony is once again putting the Sony ZV-E1 camera at the center of content creators' attention. These are its main characteristics.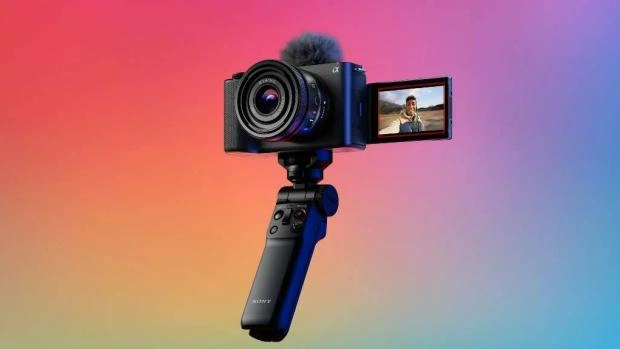 Sony has unveiled a new camera aimed at content creators: the Sony ZV-E1. It is a full frame interchangeable lens and the world's smallest and lightest body in its category.
The ZV-E1 is positioned as the new top of Sony's vlog lineup, and that's no surprise. It combines a powerful sensor, advanced AI capabilities, and the fact that it's designed "video first" with content creators in mind.
One of the main features that sets the ZV-E1 apart from its counterparts in the ZV lineup and even other models popular with vloggers (such as the Sony a7C) is the ability to record in 4K at up to 60 frames per second. at the time of market launch and up to 1000 frames per second. 120 fps in the near future with free firmware updates via the Creators' Cloud platform.
The Sony ZV-E1 is equipped with a full-frame backlit Exmor R CMOS sensor with latitude increments greater than 15 and a resolution of approximately 12.1 effective megapixels. This component promises high sensitivity, low noise and increased bokeh effect (blurred background), so demanded by many authors.
In terms of lenses, this new camera uses Sony's E-mount system, making it compatible with over 70 of its own brand lenses (and many other third-party lenses). This makes it very versatile, allowing you to shoot from ultra wide angle lenses from 12mm to super telephoto lenses from 1200mm.
Artificial intelligence is also present in the new Sony ZV-E1
In an age where artificial intelligence seems to be everywhere, the Sony ZV-E1 couldn't help but process images and videos with these technologies.
Real-time AF recognition is supported by an AI processor that uses subject shape data to accurately detect movement: it recognizes not only eyes, but also body and head position with great accuracy, allowing you to capture and freeze an image. Follow your subject even if they are not looking at the camera or are covering their face with their hands.
The artificial intelligence processor can even distinguish between several objects in different poses and recognize faces individually. In addition to people and animals, it can now also recognize birds, insects, cars, trains and planes as objects.
The Sony ZV-E1 is equipped with an AI-based real-time tracking function that can be activated by selecting a subject and pressing the capture button halfway. The camera will automatically follow you, leaving the user free to focus on framing and composition.
In addition, camera movement is detected and effectively corrected in 5 axes. In addition, the image stabilization built into the camera body can provide effective stabilization for a wide range of lenses, including E-mount lenses that do not have this built-in system.
Another notable feature is the AI-powered auto-crop video, which automatically crops the image to keep the subject in a prominent position during video recording. Even if the camera is left stationary on a tripod, the frame constantly adjusts to follow the subject smoothly, which is very helpful when one person is working with the equipment and the subject is moving on the screen.
The camera is also equipped with a multi-face detection feature. This is ideal for situations where one person is talking into the camera and then a second person is added in the back, preventing only the front faces from being in focus while the back faces remain out of focus.
Cinematic style with one button
The common denominator for many video content creators is the desire to achieve cinematic image quality without having all the technical knowledge to achieve it. There is nothing to blame: many of them are cooks, artists, musicians, even carpenters! Video filming is something that came into their lives quite late.
The Sony ZV-E1 has a feature that comes to the rescue: Cinematic Vlog settings. This is a very intuitive way to create scenes that match the visual aesthetics of feature films, thanks to various pre-created looks (aspects) and moods (settings).
Among the different looks, we find natural midtones as well as soft colors and intense shine. We also have "Settings" that enhance a specific color and the ability to control the speed of the AF transition.
The overall cinematic feel is enhanced by a frame rate of 24fps and Cinemascope's 2.35:1 aspect ratio - widescreen and with black bars at the top and bottom of the image. The latter is fixed in the Cinematic Vlog mode, although it would be interesting that this can also be customized.
In addition to these default functions, the camera allows you to record in S-Gamut3.Cinema/S-Log3 and S-Gamut3/S-Log3 color profiles, as well as set LUTS for detailed color processing.
Other Notable Features
With eight times the processing power of previous models, the BIONZ XR imaging engine promises significant performance improvements in high sensitivity, rendering gradation, color reproduction, low noise performance and more. The large amount of data generated by the image sensor can be processed in real time even when recording in 4K (QFHD: 3840 x 2160) at 120p.
The standard ISO range ranges from 80 to 102400 for both photography and video. The extended range for photos is 40 to 409600 and for videos it is 80 to 409600.
The Sony ZV-E1 can record 10-bit 4:2:2 video inside the camera using Long GOP or All Intra compression. It also supports internal intra-frame (All-I) recording and XAVC HS recording using the MPEG-H HEVC/H.265 codec for about twice the efficiency.
In addition, the camera records image stabilization and camera rotation metadata, which can be useful when editing with the free Catalyst Browse desktop application or the paid Catalyst Prepare application, so users can quickly and accurately stabilize shots during editing.
Sony ZV-E1: price and availability
The new Sony ZV-E1 will be available in April 2023 for an estimated price of €2,700 (body only). The price, which is definitely not suitable for those who are just starting out in content creation, but for those who do it professionally, can be a very wise investment.