,
The CMA 2022 Awards in Nashville: Country music stars' dresses and outfits
The festive evening once again confirmed the truth - the "country" girls, if they want, can give a head start to the city on matters of style.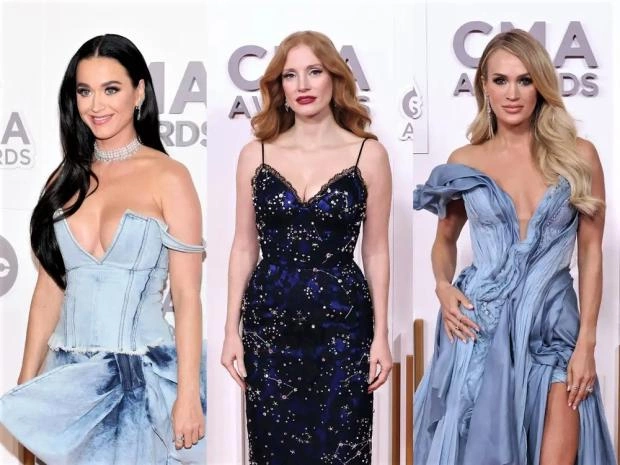 The annual holiday party in Nashville, America's country music capital, was memorable, as always, for its unrestrained fun, in the spirit of the good old American countryside, and of course for the stars' outfits. Let's leave aside the men's dress-code, not very rich in variety - cowboy hat, suit, buckskin boots - and switch to the women. Here we observed something interesting, reflecting this year's fashion trends.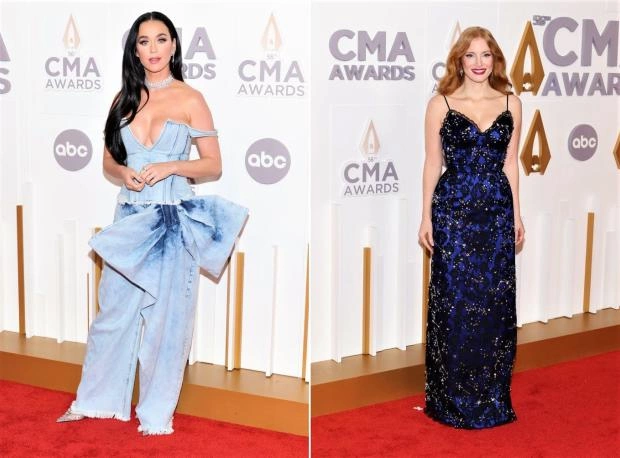 First of all, there was a lot of blue. Although according to the Pantone Institute the color of the year is lilac (a sub-tone of Very Peri), nevertheless, blue clearly soloed at the Country Music Awards. For example, famous pop singer Katy Perry, who recorded a duet ballad with Thomas Rhett, showed up in an original denim outfit of wide pants and a super open corset top. "The cherry on the cake was the voluminous bow on the side. Actress Jessica Chastain kept up with Perry, wearing a sparkling black and blue evening dress with thin straps by Gucci. The star of "Miss Sloan" did not sing on stage, but introduced the nominees and presented the award.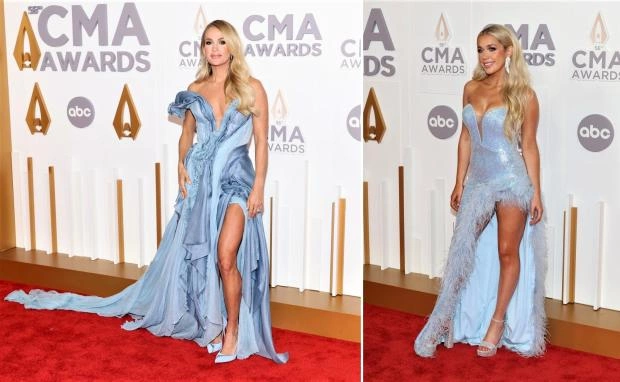 Singer Carrie Underwood also could not refuse the allure of blue, choosing a layered dress in a smoky hue and the same color shoes by designer Natalie Mills for the red carpet. The singer of the hit "The Champion" posed with her husband, ex-hockey player Mike Fisher, who wore a blue suit to match his wife. Another singer and blonde bombshell, Megan Moroney, showed off her silhouette in a light-blue, high-cut dress trimmed with ostrich fur..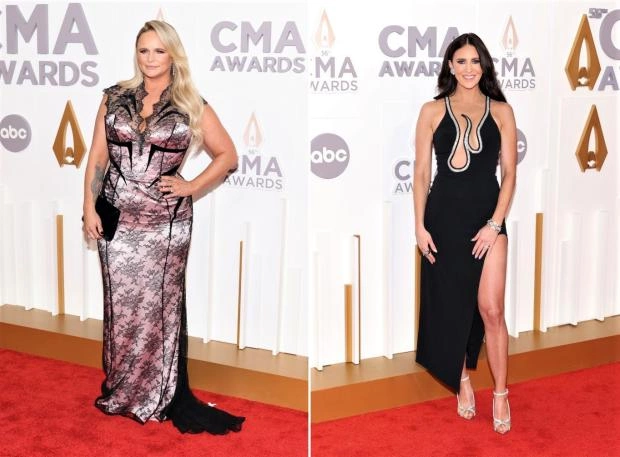 And secondly, the ladies in Nashville, who know a lot about country music, did not forget about the traditional, evening color - black. The author of the hit "Mama's Broken Heart" Miranda Lambert stood before the photographers in a vintage Mugler dress, a combination of pink satin and black lace. The singer looked stunning, with a statuesque figure and modest smile. Her fellow singer and radio host Kelly Bannen chose a black dress with a peculiar cutout at the neckline, layered with sequins. A high cut on the skirt area completed the affair, giving Kelly the opportunity to show off her slender legs in elegant shoes.