,
Memo for mom: we collect the baby in the pool
What your baby may need before, during and after swimming. Anna Berman, the founder of the Bloomkids Children's Swimming Center, spoke about this in more detail.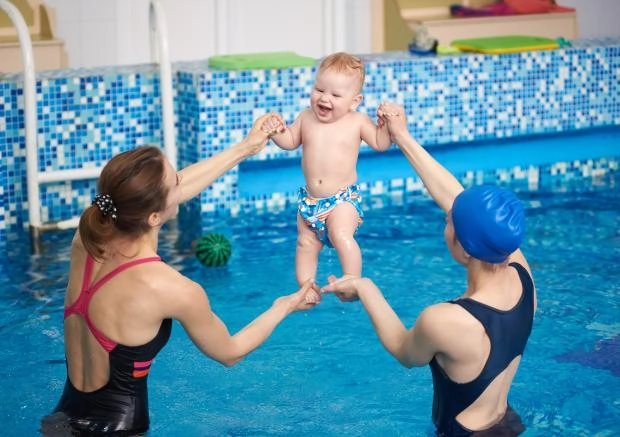 The very first lesson in the pool is always an exciting moment for both the baby and the parents. Especially when it comes to collecting the necessary things. After all, sometimes just one little thing can become a source of significant problems. Therefore, it is important to think in advance what your baby may need before, during and after swimming.
"Before starting classes, you need to choose the right swimming trunks or swimsuit. For children under 1.5-2 years old, a swimming diaper will be required to eliminate surprises. It is better to take two towels at once so that the baby can be wrapped up when he leaves the pool and wiped after a shower. You will also need non-slip footwear. Soap, shampoos and other products can be left at home by visitors to our Bloomkids children's swimming center, as we do our best for the comfort of our visitors and provide hygiene and care products. But sleeves and vests are not required when visiting the pool. A distinctive feature of a good pool is that it already has all the swimming equipment and toys in the required quantity, "comments Anna Berman, founder of the Bloomkids children's swimming center.
What should be in a parent's bag?
Babies under two years of age will need a special swim diaper that is worn under their swimming trunks. Be sure to take a towel to immediately wrap the child after swimming. Just in case, you can put your baby's favorite toy with you to please him if he suddenly gets upset.
We select swimming trunks
What should the baby wear? The answer is obvious - swimming trunks or a swimsuit. But how to choose them correctly and which ones are better to choose? First of all, it is necessary to take into account comfort, since the movements of the baby should not be constrained by anything. Therefore, you should definitely take swimming trunks according to size and choose those that will protect against the effects of chlorine. It is also important that they dry quickly, as this reduces the likelihood that the baby will get sick. Girls can be dressed in a one-piece swimsuit with wide straps, which will sit well on the figure. For boys, it is better to choose swimming trunks, such as boxers or jammers.
Купальник и плавки должны плотно прилегать к телу и не быть свободными в районе ног и талии. Особенно хорошая фиксация в этих зонах нужна малышам с памперсом, чтобы из него ничего не вытекало.
Beanie
Another important attribute when visiting the pool is a swimming cap. In our pool, children under 5 years old are not required, but everywhere there are different rules, so before visiting, you need to ask what exactly you need to bring with you. Caps are silicone, fabric and combined.
Silicone ones are considered the most elastic, they also sit much tighter. Fabric, of course, put less pressure on the head and a little more comfortable for babies, but they let water through and stretch quickly. The combined ones are made of two materials and will be more practical for the child. Inside there is a fabric for comfort, and outside the cap is made of silicone.
Swimming equipment
Swimming pools designed for children should have enough swimming equipment and toys. If there is a lack, then this indicates that the child will be bored in such classes or the trainer does not know how to work with children and does not know what additional means are used to conduct quality classes.
Circles and sleeves are not used when swimming with children. Since they do not allow the formation of the correct swimming technique and seriously harm. The purpose of swimming lessons is to teach you how to swim and not use any special devices.
Especially avoid using an inflatable ring. When he is on the neck or on the belt of a child, then the baby does not have the opportunity to maintain his body in the correct horizontal position for swimming.
Suitable footwear
For the pool, slates are most often chosen so that the child can get from the locker room to the pool. The sole in this case must be soft and non-slip so that the child does not receive any injuries. After all, even if he goes hand in hand with his parents, there is always a risk of slipping and damaging something. It is also necessary to take into account that shoes should be comfortable and not rub your feet. For the smallest children, models with a closed toe and a heel strap are recommended, which tightly hold the foot at the back.
When visiting the pool with a baby, you should always take into account his feelings. If after the pool it immediately freezes, then it is better to take a bathrobe or a thicker towel.
For classes with a baby, it is recommended to choose specialized children's swimming centers, in which all the necessary sanitary standards are observed, and the qualifications of the staff allow you to work with children.