,
Cara Delevingne's style secrets
The 31-year-old model/actress has long been a style icon, demonstrating "high" taste and remaining true to herself.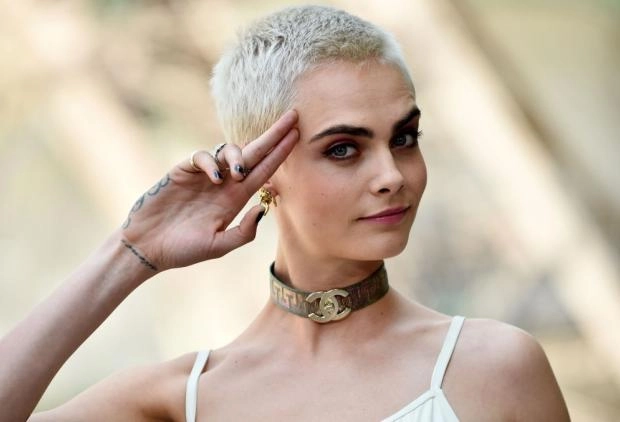 British fashion model Cara Delevingne can be called a fearless beauty. Her unique sense of style and insatiable desire to experiment have made her an icon that many who love to dress look up to. Challenging traditional forms of dressing, she is equally willing to play with androgyny, creating refreshing and inspiring looks, and embodying femininity in glamorous silhouettes. She's actually very good at it. Delevingne's fluid approach to beauty and fashion means she's always ready to transform herself, making those around her eagerly await her red carpet appearances. In this review, let's remember her most spectacular images.
March 2023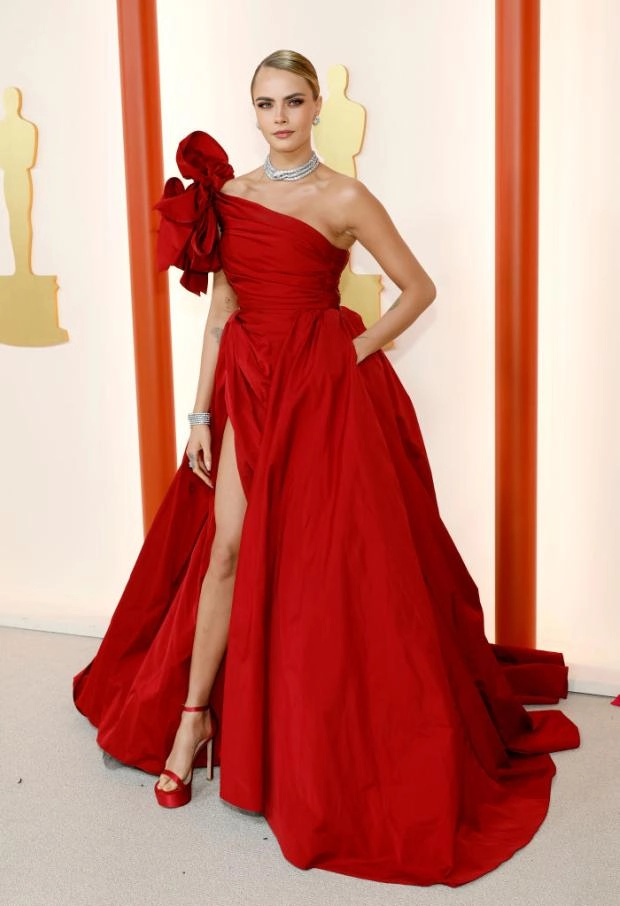 The actress brought drama to the first Oscars ceremony with a champagne-colored carpet. She appeared in front of photographers in a grand couture dress from Elie Saab in rich red, complementing the look with high-heeled shoes to match and "fresh" makeup.
February 2023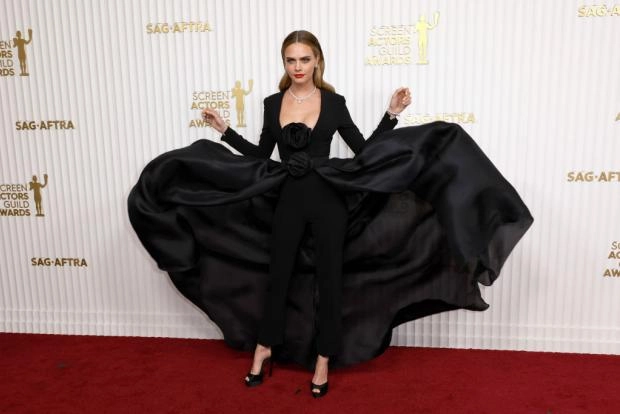 To complement her black Carolina Herrera jumpsuit at the SAG Awards, Delevingne went classic: red lips, natural blush and a soft smoky eye - all framed, of course, by her signature brows.
February 2023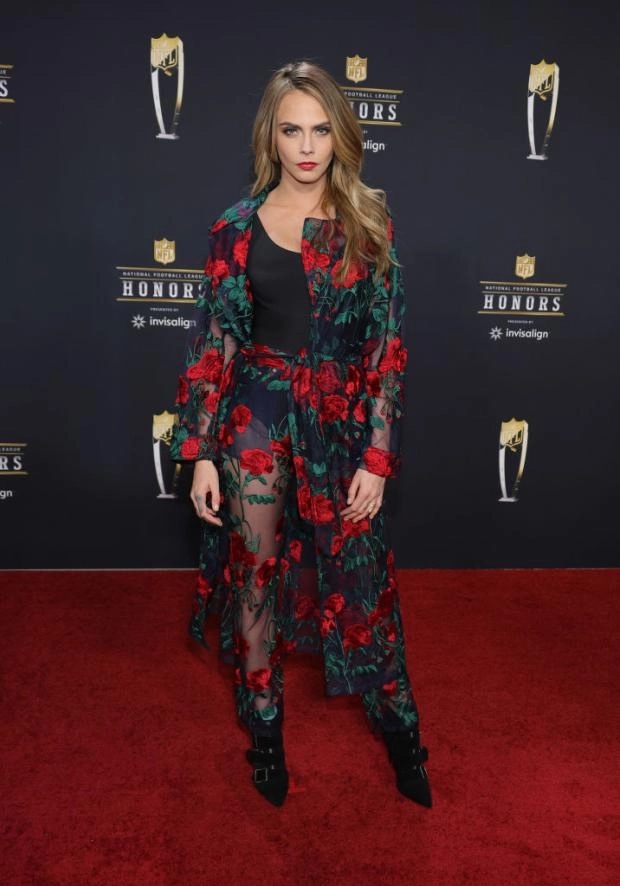 The model/actress made another public appearance this month at NFL Honors. In this look, she figuratively recalled her "English rose" cultural heritage and appeared on the red carpet in a black bodysuit paired with a light silk coat, richly decorated with bright red roses.
May 2022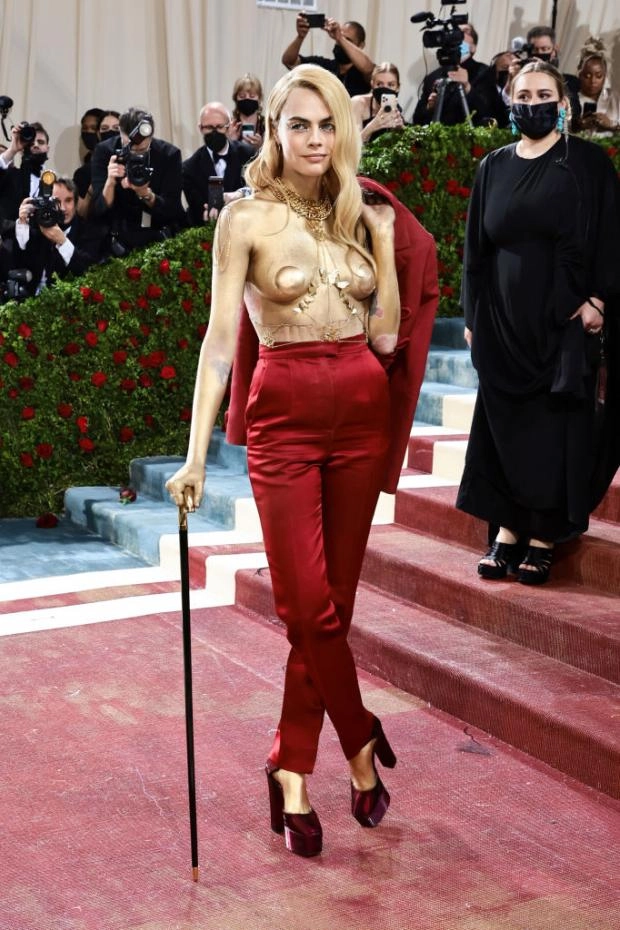 At the traditional ball, organized by the Metropolitan Costume Institute of New York, Cara appeared in accordance with the stated theme "Gilded Glamour". Her look consisted of a golden bustier top painted directly on her body, crystal-adorned eyes and a bright red satin pantsuit. The ideal accessory to the unusual image of a dandy woman was a cane with a gold handle.
October 2020
Delevingne looks like a real glam rock star here, having attended the fashion show of Rihanna's Savage X Fenty brand in this look. For contrast, she dyed her hair a dazzling blonde and wore her hair in a mullet. The bold look was topped off with high-waisted velvet trousers and a lace top with thin straps.
August 2019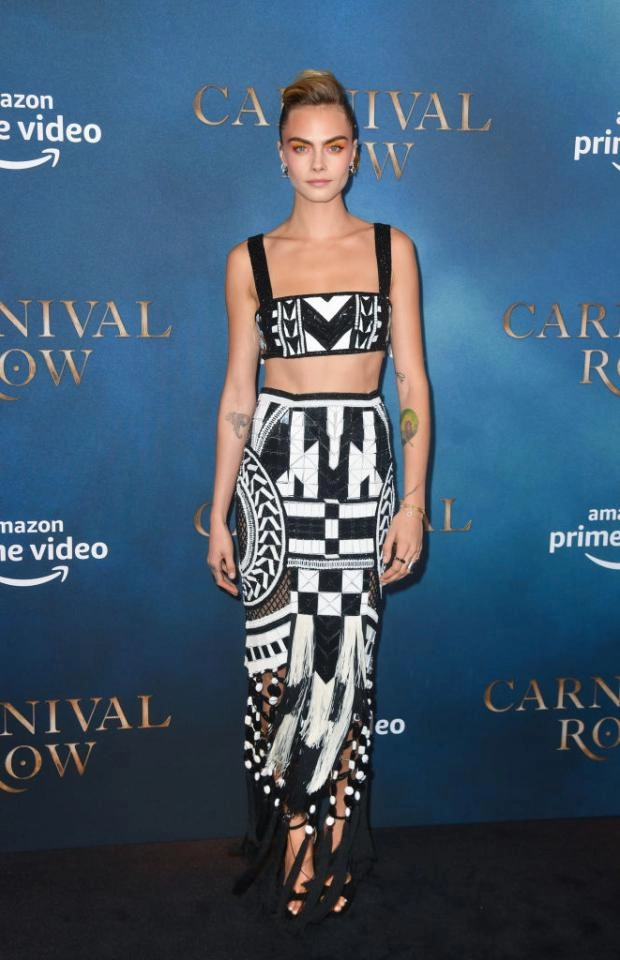 Having starred in the Apple television series Carnival Row, Cara impressively presented it at the premiere in London. To go out with her project partner Orlando Bloom, she chose a Balmain suit with a black and white print. And she couldn't resist a hooligan touch, diluting the monochrome with bright orange shadows.
May 2017
Another "carnival" image from Delevingne, she still knows how to amaze. This time the image was designed in silver tones. A Chanel pantsuit and dyed hair did the trick and made the evening's guests stare at the model with their mouths open.