,
Failing for Cristmas: meet new romantic comedy with Lohan and Overstreet
The picturesque hotel in the mountains, in which the heroine was recovering after a fall on skis, was made created from two hotels in Utah.
Viewers of the melodrama "Unforgettable Christmas", which premiered a few days ago, were literally captivated by its visuals. The film is set at a ski resort where Lindsay Lohan's character, heiress of a large fortune Sierra Belmont, loses her memory in an accident and tries to "remember everything" by taking advantage of the hospitality of the owner of the local North Star Lodge, a young widower played by Cord Overstreet.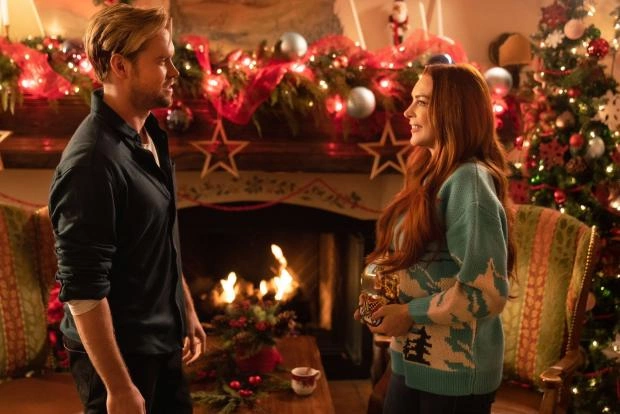 The hotel where the events take place looks like a Christmas fairy tale - the stairwells are decorated with fluffy fir trees in the traditional red-and-white style, the reception desk, chandelier, fireplace shelves, doors, tables and even the bar are also decorated. It turned out that to create such beauty in the frame, the filmmakers enlisted the help of the famous Goldener Hirsch Luxury Hotel in Park City, in Deer Valley, Utah. This hotel was opened in 1948, on the model of the hotel, which is located in the Austrian Salzburg.
But the outer plans of the movie "Failing for Christmas", as it turned out, have already filmed near another institution, also located in Utah. Namely, 20 miles south of the Goldener Hirsch Luxury Hotel, the Blue Boar Inn. The hotel was named after Robin Hood's favorite tavern, which came to light in an 1883 novel by Howard Pyle. The hotel was given a picturesque look in the early '90s, turning it into a "romantic, elegant European-style hotel with towers and graceful balconies with wrought-iron partitions."
Failing for Christmas, starring Lindsay Lohan, premiered on Netflix on November 10.