,
How Jenna Ortega came up with the famous dance for the series "Wednesday"
The choreography for the responsible scene was developed by the actress just two days before her shooting.
Jena Ortega inspired a new trend on TikTok with her epic dance scene in the Netflix series Wednesday. Since the release of the fourth series of the Addams Family spin-off, the actress has become a dance queen, winning the hearts of thousands of fans, including Lady Gaga and Kim Kardashian. They all began to repeat the energetic musical number of the main character Wednesday Addams on the popular platform. And the other day, the actress revealed the details of how she came to the famous dance.
"At first, they wanted a flash mob, but I thought, no, Wednesday wouldn't do that to dance and tease a group of people," the 20-year-old performer told host Jimmy Fallon on his Tonight Show. "The director, Tim Burton, and I talked about it for a bit, and he said, 'Yeah, let's not make a circle. Let's make it her own business."
"A week before filming the dance, he chose the song 'Goo Goo Muck' by The Cramps," Ortega continued, referring to their 1981 track on the show. "And The Cramps are one of my favorite bands, so I was incredibly excited and excited." Jenna went on to explain that she had to come up with the choreography herself, and she did it only two days before the scene was filmed. "(Burton) said, 'I know you can do it. You've worked on it. I don't even worry about it. I trust you". And I: "Oh yeah, you know, it's so great," she noted, adding that at that time she didn't even "have a plan."
"I haven't really considered it yet," she told Fallon. "I kicked myself. I felt like such a fool. Because I'm not a dancer. I don't do anything like that. I have no experience in this area. I didn't sleep for two days." However, Ortega managed to achieve massive success on social media with her dance, and Netflix management knew in advance that "he would be popular on TikTok," the actress mentioned. "They were right," she concluded.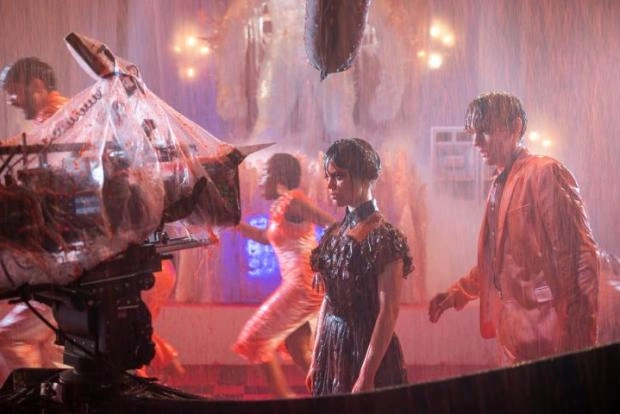 To prepare for the scene, Jenna watched "archival videos of kids dancing in clubs in the 80s" as well as footage of Lisa Loring, who was only six years old when she landed the role of Wednesday in the comedy series The Addams Family (1964). ).