,
The official trailer for the crime detective Glass Onion
The main role, private interrogator Benoit Blanc, is played by Daniel Craig.
Benoit Blanc returns with a new case in the Lionsgate trailer for "Glass Onion". According to the official synopsis, "The detective's next adventure finds him stranded in a luxury private villa on a Greek island. But how and why he got there is only the first in a series of many puzzles. Blanc soon meets a disparate group of friends invited by billionaire Miles Bron to an annual reunion. Guests include Miles' former business partner Andy Brand, current Connecticut governor Claire Debella, cutting-edge scientist Lionel Toussaint, fashion designer and former model Birdie J. and her bona fide assistant Peg, and blogger Duke Cody and his sidekick Whiskey. As with all mysterious high-profile crimes, each character has secrets, lies, and motives. When a death occurs, everyone falls under suspicion.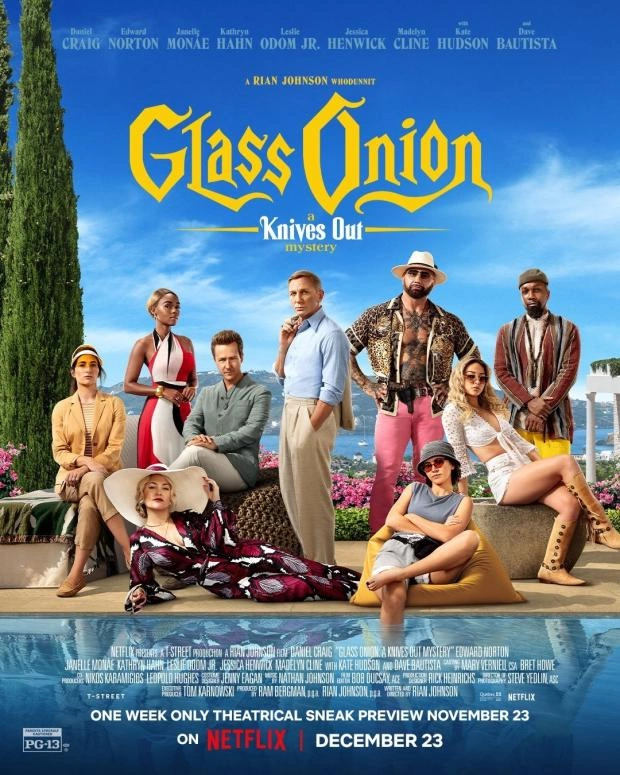 Returning to the franchise he started, Oscar-nominated director Ryan Johnson wrote and directed The Glass Onion and provided it with a talented cast. It included Daniel Craig, Edward Norton, Janelle Monae, Kathryn Hahn, Leslie Odom Jr., Jessica Henwick, Madeline Kline along with Kate Hudson and Dave Batista.
The crime detective is scheduled to premiere in theaters Nov. 23. The film will be available for streaming on Netflix in a month.