,
A visitor to an exhibition in Miami broke an expensive exhibit
The "victim" was the work of the famous artist Jeff Koons.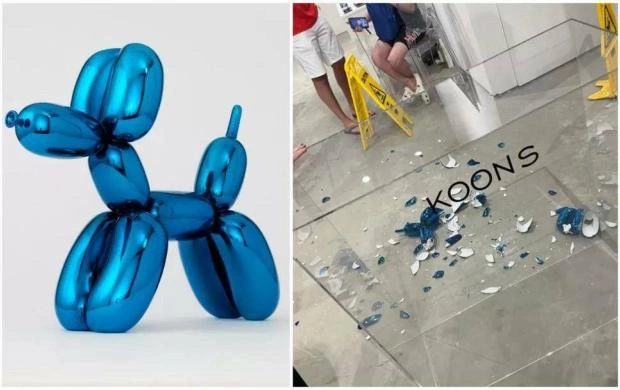 Last Thursday, one of the visitors to an art exhibition in Miami accidentally smashed a $42,000 sculpture by American Jeff Koons, local media reported.
The 38cm high blue "Inflatable Dog" figurine was part of the exhibit to be exhibited at the Wynwood Art Fair in Miami, South Florida, which celebrated the start of its tenth edition on Friday. The night before, it was opened to an expert audience ( critics, curators, collectors and invited experts).
The Miami Herald reported that the woman would not have to pay for the broken figurine that ended up on the floor, as it was insured.
"When this piece hit the ground, it was like a car wreck drawing a crowd onto the highway," said Stephen Gamso, artist and art collector from Wynwood.
The expensive exhibit shattered into pieces with a noise, shocking everyone who was nearby.
It is worth noting that in the work of Jeff Koons there are not only dogs, but also rabbits, one of which was auctioned in May 2019 for $91.075 million by Christie's auction house in New York.
See also: Brocard has released a collection of niche fragrances that embody the ideas of the interconnection of the five elements in the Tree of Life.