,
DNA in his hair reveals new clues almost 200 years later
Scientists have analyzed five surviving strands believed to have belonged to the great composer. Next Sunday, March 26, marks the 196th anniversary of his death.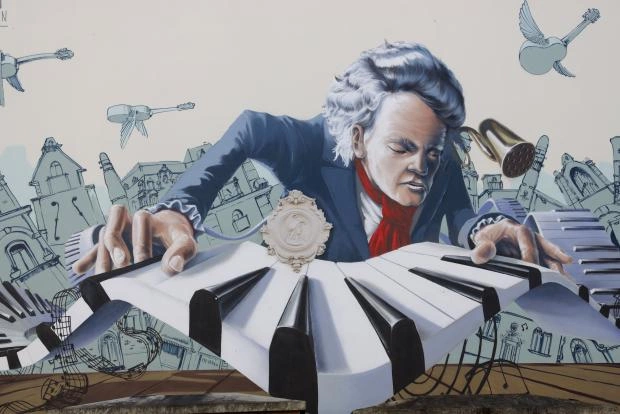 New information about Ludwig van Beethoven's illness has emerged. A team of researchers have extracted DNA from hair strands of one of history's greatest music composers. They were unable to determine the cause of his deafness, but found several indications of what ultimately led to his death.
Scientists have found a genetic predisposition to liver disease in addition to hepatitis B infection, which damaged the liver in the last months of his life. An autopsy after his death in 1827 in Vienna had already revealed that Beethoven had cirrhosis of the liver caused by his problematic drinking. All these factors together explain why he passed away at the age of 56.
New data on Beethoven's disease were published in the journal Current Biology. March 26 marks the 196th anniversary of the composer's death.
"Illnesses sometimes severely limited his creative activity ... It has always been a mystery to doctors what was really behind it," Axel Schmidt, a geneticist at Bonn University Hospital in Germany and one of the authors of the study, told AP.
How was the study of the disease from which Beethoven suffered?
Alcohol has so far been the only known cause of Beethoven's liver disease. The researchers analyzed eight strands of hair held in public and private collections in the United States and Europe. They determined that of all of them, five belonged to the same person. They determined that it was "almost certainly" the author of many legendary works, such as Symphonies No. 5, No. 6 and No. 9, Moonlight Sonata and Fuhrer Eliza.
The strand in the best condition was named Stumpff Lock, which is the name of the person who once owned it. This is what he used to sequence his genome.
"DNA has indeed been destroyed," Johannes Krause, director of the Evolutionary Anthropology Institute, told Reuters. Max Planck in Germany, as well as a participant in the study of Beethoven's disease. "It was really difficult to get enough DNA from such a sample to assemble a genome. We had to extract DNA from more than 2 meters of hair from one of the strands."
The study found neither the cause of the deafness nor the cause of the gastrointestinal illness that Beethoven also suffered. But they researched the origins of the composer and discovered a surprise. Genetic data and five living relatives showed that the child, conceived in an extramarital affair by his father's family, existed.