,
Jennifer Lopez will release a new album this summer
It will be called "This Me... Now" and will be released exactly 20 years after the release of "This Me... Then" (2003).
The upcoming summer promises to be hot, because this is the time when Jennifer Lopez plans to release the new album "This Me...Now". The artist began to advertise it at the end of last year, and the fans have been wondering when they could listen to the new creation of unfading Jen. Now everything is falling into place.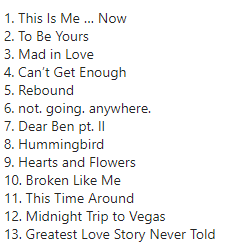 "My next album, 'This Me... Now,' is coming out this summer," Lopez announced during a stream on Spotify. "Yeah, this is the first time you're hearing about it here. And I'm very excited," she admitted.
"This Me...Now" is the follow-up to Jennifer's "This Me...Then" album, which she released in 2003. "People think they know about the facts that have come my way since then, about the men I've been with, but really, they're often so badly mistaken about it. There is a part of me that I carefully guard from outsiders. And I feel like I'm at a point in my life where I can actually say something about it," Lopez previously said about the upcoming album in an interview with Vogue magazine.