,
Daniil Medvedev was slightly injured at the tournament in Indian Wales
The Russian needed a medical timeout in the middle of the game when he fell on the court and cut his finger.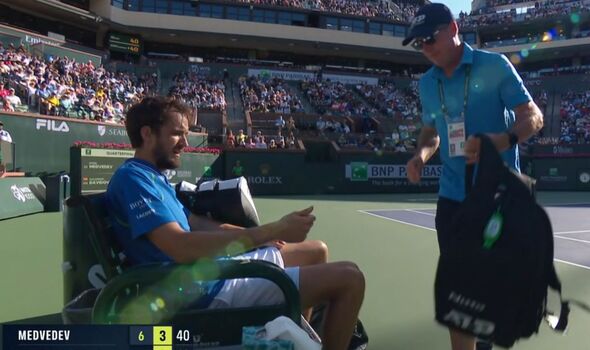 Russian No. 1 Daniil Medvedev brings surprises in every game he plays in Indian Wells. The Russian tennis player played a tough match today, but, as usual, showed a colossal level in the most difficult conditions. In the quarter-finals, he beat Alexander Davidovich Fokina with a score of 6:3 and 7:5, but at some point his victory was in serious doubt. The Russian fell again: in the match with Alexander Zverev, the Russian twisted his ankle, and at the meeting with Fokina, he broke the nail on the thumb of his right hand.
The Russian began to bleed and sought medical attention, but also became angry over the use of rackets. The former world number one who wore the headband didn't feel comfortable with grips.
He turned to referee Mohamed Lahyani: "I want to use this racket, but I can't play like that. Can I change the flu, or what is the rule?", Not being able to change it, Medvedev angrily sat down, changed his bandage. In any case, the Russian tennis player with an injury won again, and for the 18th in a row.