,
Alcaraz left a message for Sinneck for the 2023 Miami Open final
Alcaraz showed sportsmanship and warmth after a tough loss in the semi-final showdown in Miami.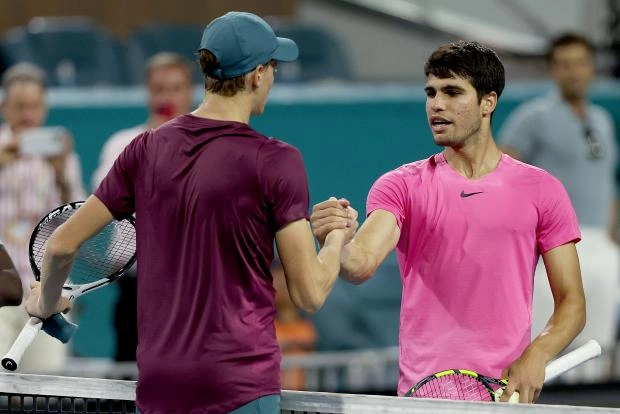 After a thrilling semi-final battle in Miami, won by Yannick Sinner 6-7(4), 6-4, 6-2, Carlos Alcaraz left a message for his opponent in the draw regarding Sunday's Miami final against Daniil Medvedev.
"Go ahead man, I'll be rooting for you," he wrote.
It's great to see such great respect and camaraderie between the two rising powers and to pay tribute to Alcaraz who showed sportsmanship and warmth after a tough defeat.
However, the Spaniard, who will lose first place in the rankings when the new rankings are published on Monday, April 3, had a hard time coming to terms with the loss in the immediate aftermath.
"After the match, for 15-25 minutes I couldn't talk to anyone," he told reporters. "I complained a lot, everything is crap to me," he said.
But when he cooled down, he was ready to face the press and was keen to play down the notion that his third-set mistakes were the reason he lost to Sinner for the third time in six career bouts.
"I started having cramps at the beginning of the third set, but that was not the reason why I lost the match," he stressed. "I came back from the cramps at the beginning, I started to feel better. But of course, Yannick, he was better than me in the third set. It's true, you know."
Instead of getting frustrated with the missed opportunity to win the tournament for the second time and keep the No. 1 ranking, Alcaraz is already focused on what he needs to do better to regain the edge over his archrival.
"I don't think about losing number 1, I lost the championship double. I don't think about it," he said.
"Of course, it's a shame, but I had the opportunity to receive a double Sunshine award, but I think that I will have many more years to try to get it. But all I can think about is leveling up to beat Yannick."