,
Daniil Medvedev's coach told how his ward is going to victory
Less than two months ago, Medvedev was No. 12 in the ATP rankings, his lowest point since July 2019. He is now back to world No. 4 with the opportunity to prove himself during the clay season.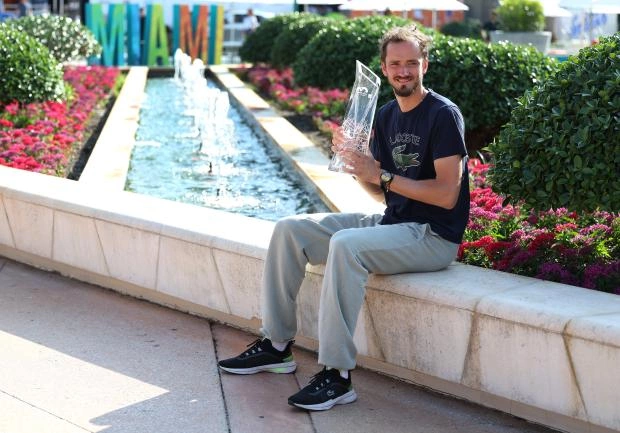 Daniil Medvedev claimed his fifth ATP Masters 1000 trophy by defeating Yannick Sinner on Sunday for the Miami Open title. It was the best moment of the hot season for the 27-year-old, who also won crowns in Rotterdam, Doha and Dubai and reached the final in Indian Wells.
Less than two months ago, Medvedev was No. 12 in the ATP rankings, his lowest point since July 2019. He is now back to world No. 4 with the opportunity to prove himself during the clay season.
After Medvedev's triumph in Miami, the ATPTour met with his coach Gilles Servara, who revealed when everything changed, why the opposition struggled so hard against the former World No. 1 champion and more.
The past year has been a difficult one for Daniel. The start of this year was tough. When did everything click and unfold?
"For me it all turned around right before Rotterdam. I remember as a coach the three days in Rotterdam before the first round on the court were very, very hard. days before the first round in Rotterdam, I felt that Daniel was very nervous, not at all sure.
But I also felt that he could play good tennis. My job at that time was to find a way to talk to him in a nice way, to find a good button inside of me to get him to train well and win sets during training. That's what happened.
Even if he wasn't ready to realize that he was playing well at the time, I felt like I had touched something. Then the first round against Davidovich was the key to win this one, even problems. And then day by day it got better and better, and then the victory over Felix took another big step towards lighting it up."
What advice did you give him?
It wasn't special advice... I know Daniel, I know how it works with him. I'm trying to adjust to the situation and what he says is very important. Let's say I talked about this book, it's like water. I'm trying to be like water, use a good wave, let's like this.
And because he's a smart guy and an amazing player, when you touch something good, he's able to turn shit into gold, let's just say."
What do people not understand about Daniel and his game?
"It's hard to say. It's hard to say because I'm not in front of him to say it. But sometimes his punches have power, sometimes they don't. Sometimes you expect something, but he goes the other way. Sometimes you expect a deep punch, and he gets short, no texture.
Then one thing is important is that it looks like a wall. Every ball comes back and he doesn't concede. He submits, he runs away. He is able to practically find a solution for any problem.
He is an amazing fighter. He really wants to win all the time, so he gives nothing to the opponent and pushes the opponents to such a level that sometimes - I'm not talking about the best players, because they are used to it - but as far as other players are concerned, they are not used to winning back every point like that. . The combination of this makes it so difficult to play.
After the match against Carlos Alcaraz in Indian Wells, where he lost in the final, it would have been easy for him to possibly be defeated. But he came back and played a great tournament, although historically this swing has never been a great result for him. How important was it for Daniel to bounce back like this?
He, I and the whole team, our work, I know myself and I know Daniel, we want to win. It's like playing to win. In fact, that's all there is to it. So you try every day when you're on the court to do your best. When you play, you want to win.
For example, a little joke, when I play snooker with Daniel, I'm ready to go crazy to beat him, and he is the same. So there's a lot of tension between us, you can feel it, because he wants to beat me and I want to beat him."