,
Daniil Medvedev said that rivals underestimate when competing with him
Being a wall is not the only thing the Russian tennis player does well.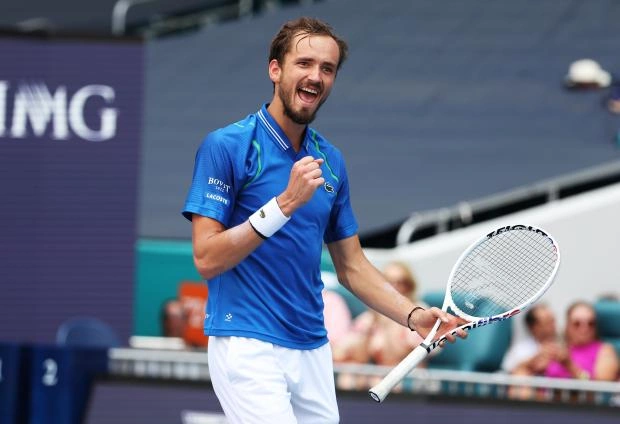 Each ATP tournament starts with many world-class players, but there can only be one champion.
In the first three months of 2023, 14 different players have lifted the singles trophy at Tour level, with some of them repeatedly breaking into the top positions. Daniil Medvedev led the way with four titles, while Novak Djokovic and Carlos Alcaraz have already won the title twice this season.
Daniil Medvedev posted an outstanding 24-1 record in five hard court tournaments in February, March and April. The 27-year-old defeated Felix Auger-Aliassime, Grigor Dimitrov and Sinner on his way to an ATP 500 indoor triumph at the ABN AMRO Open in Rotterdam before heading to the Middle East where he won the Qatar ExxonMobil Open in Doha and the Dubai Duty Free Championship. tennis.
The 27-year-old showed off his stellar form at the BNP Paribas Open in Indian Wells, but lost to Carlos Alcaraz in the final here. At the Miami Open, the former world No. 1 lost just one set on his way to victory.
Medvedev has won 19 tour-level titles to date
Medvedev has gained a reputation as an incredibly skilled defender who constantly confuses his opponents with his performances and position on the court. But being a wall is not the only thing Daniil Medvedev does well. You won't become one of the best players in the world by doing just one thing.
Asked to explain what he thinks is underestimated in his game, the newly minted Miami champion told reporters that his capacity for aggression is sometimes overlooked.
"I would say that in a way my attacking skills are because I know that I am good in defense and especially in return moves, I can sometimes defend and there are some points that I win just by dropping the ball. back and causing opponents to miss, but on my serve I feel like I'm pretty aggressive all the time," said five-time Masters 1000 champion Medvedev. "And on the pitch, sometimes when I see my good matches, if I make a good return move, then from the position that I am in, I really go forward quickly and maybe attack the next one. So I think, yes, it might be a little underrated in my game, the attacking skills that I have."
There is no doubt about it. Daniil Medvedev skillfully uses moments to use his advantages. He seamlessly transitions from defensive to neutral to offensive and back again, all the while keeping his opponents guessing. And when he serves, he can be downright devastating, serving big and picking plus one with the best of them.
That's how he's been able to win 19 hard court titles in his career and make 24 of his last 25 decisions since February.