,
What is Carlos Alcaraz's injury and when will he play again
Alcaraz will not be able to start clay courts in Europe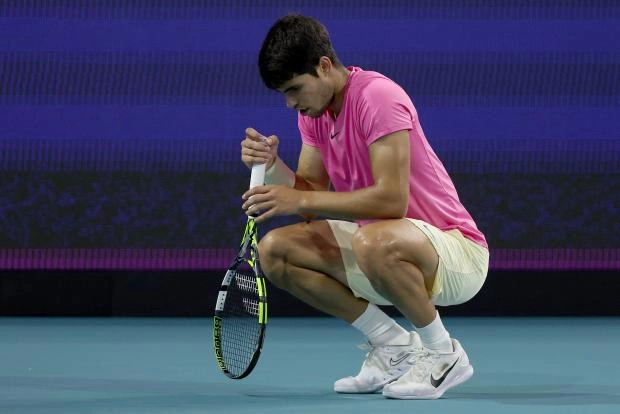 Carlos Alcaraz was injured in the semi-finals of the Miami Masters tournament, where he met with the Italian Sinner. After winning the first set, the Italian easily won the next two, which deprived Alcaraz of the opportunity to reach the final and continue the fight for 1st place in the ATP rankings.
The current number two in the world ended the match with an injury, which was confirmed by the doctor after the return of Carlos Alcaraz home. Thus, Alcaraz will not be able to start the clay court stage in Europe.
What is Carlos Alcaraz's injury?
After undergoing appropriate medical examinations, it was confirmed that Alcaraz was suffering from post-traumatic arthritis in his left hand. Added to this is muscular discomfort in the spine, which requires rest in order to try to get to Roland Garros in June.
The player himself announced this on his social networks, announcing that he would not be able to take part in the Masters 1000 tournament in Monte Carlo, which starts on April 8 and ends on the 15th of the same month.
"After two months of racing, I'm happy to be back home, but I'm sad because I ended my semi-final match in Miami with discomfort. After today's visit to my Dr. Lopez Martinez in Murcia and examination, I will not be able to go to Monte Carlo to start the land tour ", he explained.
How long will Carlos Alcaraz be out?
In the near future, the Murcian tennis player will miss the tournament in Monte Carlo, where he will not defend points from 2022, in order not to overload himself, in order to be 100% ready for the clay season.
As such, Alcaraz will be taking a break to recover from his ailments, as he stated on his social media: "I have post-traumatic arthritis in my left hand and muscular pain in my spine that needs rest to deal with everything that lies ahead."
When is Alcaraz's next match?
Carlos Alcaraz may return to the tennis courts at the tournament in Barcelona, which will be held from 17 to 23 April. Next up is the Masters 1000 in Madrid, as well as Roland Garros, the second Grand Slam of the season in June. There, the Spaniard will try to win another title in his track record after the last won in Indian Wells.